Welcome to Kobberhaughytta
Kobberhaughytta is a cabin owned by The Norwegian Trekking Association, located in Nordmarka in Oslo. The cabin is reachable by foot, ski or bike. We are not reachable by car.
Publisert: 12. september 2023

DNTs tilbud
Café
When the café is open, we serve our famous cinnamon buns and waffles, as well as hot chocolate and coffee. You can enjoy these delicous treats while sitting in front of the biggest indoor fireplace in Oslo. Please check our opening hours here.
In our café you can enjoy our home made cinnamon buns (kanelbolle), traditional waffles by our own recipe and our soup of the day. Enjoy a cold soda, local apple juice from Ringi, or a hot chocolate.
We have all rights for alcohol (beer, wine, spirits).
Check our opening hours with Google.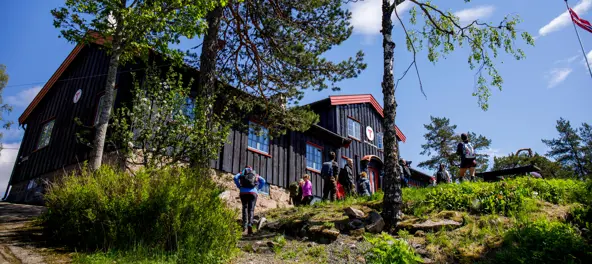 Directions to Kobberhaughytta
Nordmarka is the forested region north of the capital Oslo - spanning over 300 km². The locals use the area all year round for hiking, skiing, biking, camping, fishing and more! It is not allowed to drive within the boarders of Marka - so all exploration has to be done by foot/bike/ski
Les videre
Accomodation
We have 2-, 4-, 6- and 8 bed rooms available for reservation. Take a hike up to Kobberhaughytta in the afternoon, relax in the sauna and enjoy a home made 3-course dinner. In the morning you wake up to a view over Oslo, and can enjoy our breakfast buffet before you start going back to civilization again.
All reservations include dinner, breakfast and a self-packed lunch. Linen and towels can be rented at the place, or you may bring your own.
The best way to book your stay at Kobberhaughytta is to use our online booking. There you can see available dates and make your reservation. But you can also contact us by email or phone.
Please note that opposite to the DNT-cabins in the mountains, you can not arrive without a reservation. Also note that there is no self-service part of the cabin.
Book your stay
It has now become easier to book a cabin trip at DNT cabins. Book accommodation at Kobberhaughytta now!
Hyttebetaling.dnt.no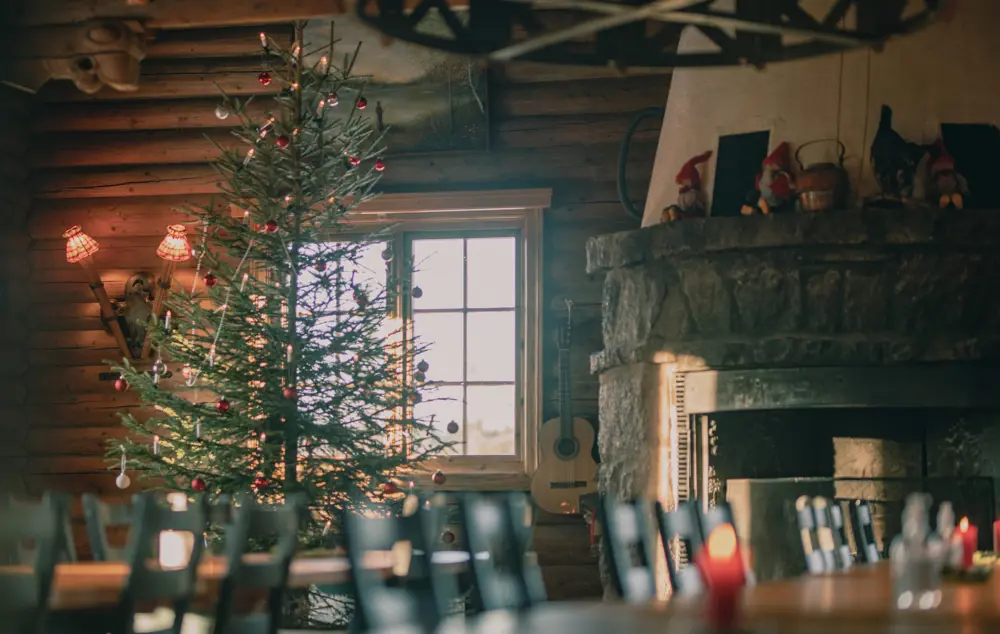 Staffed cabins prices
DNT pension includes accommodation, 3-course dinner, breakfast, self-packed lunch (4 slices of bread) and a shower.
Adult with DNT pension from 990,-

Member

990,- in dormitories
1 120,- In rooms with 4-6 bunks
1 190,- in roomes with 1-3 bunks

Non-member

1 300,- in dormitories
1 475,- In rooms with 4-6 bunks
1 550,- in roomes with 1-3 bunks
Children 13-18 years with DNT pension from 850,-

Member

850,- in dormitories
920,- In rooms with 4-6 bunks
935,- in roomes with 1-3 bunks

Non-member

1 300,- in dormitories
1 475,- In rooms with 4-6 bunks
1 550,- in roomes with 1-3 bunks
Children 4-12 years with DNT pension from 465,-

Member

465,- in dormitories
520,- In rooms with 4-6 bunks
545,- in roomes with 1-3 bunks

Non-member

730,- in dormitories
810,- In rooms with 4-6 bunks
850,- in roomes with 1-3 bunks
Our prices is based on DNT Oslo and Omegn price list. Prices may vary from other DNT-cabins. For more information about prices on our staffed cabins, click here.
Benefits of being a member
If you are a DNT member, you get a discount on both accommodation and food at our cabins.
If you stay overnight for more than 2 days you will save up the price of the membership. With the membership you will receive discount on accommodation at DNT's 550 cabins. You will also receive discount on outdoor equipment and on DNT tours.
The membership fee also contributes to support our work marking and clearing paths in all our areas. With the support we are able to operate the DNT huts, arrange trips and facilitate good experiences in our forests and mountains.
To become a DNT Member - sign up here!