Welcome to Nørdstedalseter
Nørdstedalseter lies uppermost in Fortunsdalen in Breheimen, which adjoins Jotunheimen. In summer, you can drive all the way to the lodge after a splendid car tour up from Sognefjorden. The lodge has an intimate, cozy ambience and is a node in the routes between Jotunheimen and Breheimen.
Publisert: 02. oktober 2023

DNTs tilbud
Practical information
Local food is part of the experience

DNT works in collaboration with the Ministry of Agriculture and Food to promote local food and food culture at the serviced DNT cabins.

For breakfast, we have a good breakfast table so guests get a good start to the day. Most of the food on the table is homemade and seasoned with love. We make, among other things, bread, shortbread and jam, etc.
Seasons

The lodge is open during the summer and easter holiday.

Opening hours staffed cabin 2024:

Winter March 22nd - April 1st
Summer June 28th - August 25th

Extended stays of two days or more may be booked directly at the lodge in season (board and lodging prices for stays of three or more days).

In the off season during the rest of the year, it offers self-service lodging, available by using the DNT cabin key.
How to get to Nørdstedalseter

Summer access

In summer, there's a road (no barrier) all the way to the lodge. From Oslo, you can take Nor-Way bus 170 to Sogndal and change there to bus 14-155 to Fortun. From Fortun, you can take a taxi or walk in.

Winter access

By bus or car to Sota Sæter. From Sota Sæter, there's a 27 km staked route to the lodge. There also are staked routes from Turtagrø and from Krossbu/Sognefjellshytta. You can take a bus from Oslo or Bergen via Sogndal to Fortun, and from there, a taxi on to Turtagrø.
Accommodation

The best way to book your stay at Nørdstedalseter is to use our online booking. But you can also contact us by email or phone.

There is normally always room in the DNT cabins, but sometimes only simple logdes for drop-ins.
Book your stay
It has now become easier to book a cabin trip at DNT cabins. Book accommodation at Nørdstedalseter now!
Hyttebestilling.dnt.no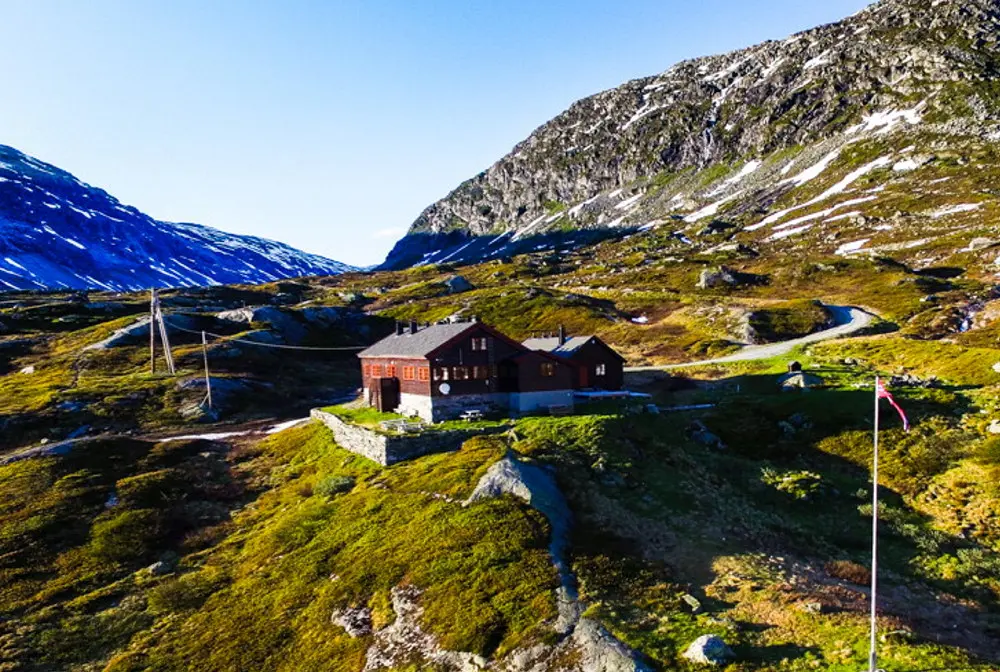 Staffed cabins prices
DNT pension includes accommodation, 3-course dinner, breakfast, self-packed lunch (4 slices of bread) and a shower.
Adult with DNT pension from 990,-

Member

990,- in dormitories
1 120,- In rooms with 4-6 bunks
1 190,- in roomes with 1-3 bunks

Non-member

1 300,- in dormitories
1 475,- In rooms with 4-6 bunks
1 550,- in roomes with 1-3 bunks
Children 13-18 years with DNT pension from 850,-

Member

850,- in dormitories
920,- In rooms with 4-6 bunks
935,- in roomes with 1-3 bunks

Non-member

1 300,- in dormitories
1 475,- In rooms with 4-6 bunks
1 550,- in roomes with 1-3 bunks
Children 4-12 years with DNT pension from 465,-

Member

465,- in dormitories
520,- In rooms with 4-6 bunks
545,- in roomes with 1-3 bunks

Non-member

730,- in dormitories
810,- In rooms with 4-6 bunks
850,- in roomes with 1-3 bunks
Our prices is based on DNT Oslo and Omegn price list. Prices may vary from other DNT-cabins. For more information about prices on our staffed cabins, click here.
Benefits of being a member
If you are a DNT member, you get a discount on both accommodation and food at our cabins.
If you stay overnight for more than 2 days you will save up the price of the membership. With the membership you will receive discount on accommodation at DNT's 550 cabins. You will also receive discount on outdoor equipment and on DNT tours.
The membership fee also contributes to support our work marking and clearing paths in all our areas. With the support we are able to operate the DNT huts, arrange trips and facilitate good experiences in our forests and mountains.
To become a DNT Member - sign up here!
Contact us
In season
Off season