Welcome to Leirvassbu
Leirvassbu is one of the country's big living rooms for mountain people in Norway. Located in the heart of Jotunheimen, with over 50 peaks over 2000 meters in day trip distance, the place can offer unique nature experiences both summer and winter.
Publisert: 12. september 2023

DNTs tilbud
Practical information
About the cabin

The cabin itself has 224 beds divided into different room categories and standards, of which 34 of the rooms are en-suite. In total, the cabin has 87 rooms. A stately cabin with a beautiful entrance hall, spacious dining room, cozy bar and a very cozy fireplace lounge. There is good 4G coverage in the cabin and in the area and guest WiFi in the bar and reception area.
Opening hours

The cabin is staffed from the beginning of March until the first weekend in May. Varies slightly depending on when Easter starts. The summer season starts at the end of June and lasts until mid-September.
Access winter

During the winter season, the road is plowed 9 km to a large and plowed car park at Sletthamn. From here, it is 6 kilometers along the steep trail to the cabin.

It is possible to arrange transport with us by scooter or tracked vehicle.
Contact us to book transportation.
Access summer

With public transportation

From Oslo you can either take a bus directly to Lom, and a bus on to Leirvassbu or the train to Otta and from there a bus on to Leirvassbu. See timetable and more information at entur.no

There is bus route 203 that goes from Lom to Leirvassbu.

By car

Leirvassbu Fjellstue is located in Lom municipality. If you are coming from the center of Lom, drive national road 55 up Bøverdalen in the direction of Sogndal. After 26 km, turn off the national road and turn left. The exit is marked "Leirvassbu". If you come from Årdal or Sogndal, turn right about 16 km after you pass the highest point of the Sognefjellsveien.

In the summer, you can drive all the way to the cabin. This is a 15 km private toll road where tolls must be paid.

The toll price is NOK 110 per car.
Accommodation

The best way to book your stay at Leirvassbu is to use our online booking. But you can also contact us by email or phone.

There is normally always room in the DNT cabins, but sometimes only simple logdes for drop-ins.
Book your stay
It has now become easier to book a cabin trip at DNT cabins. Book accommodation at Leirvassbu now!
Hyttebestilling.dnt.no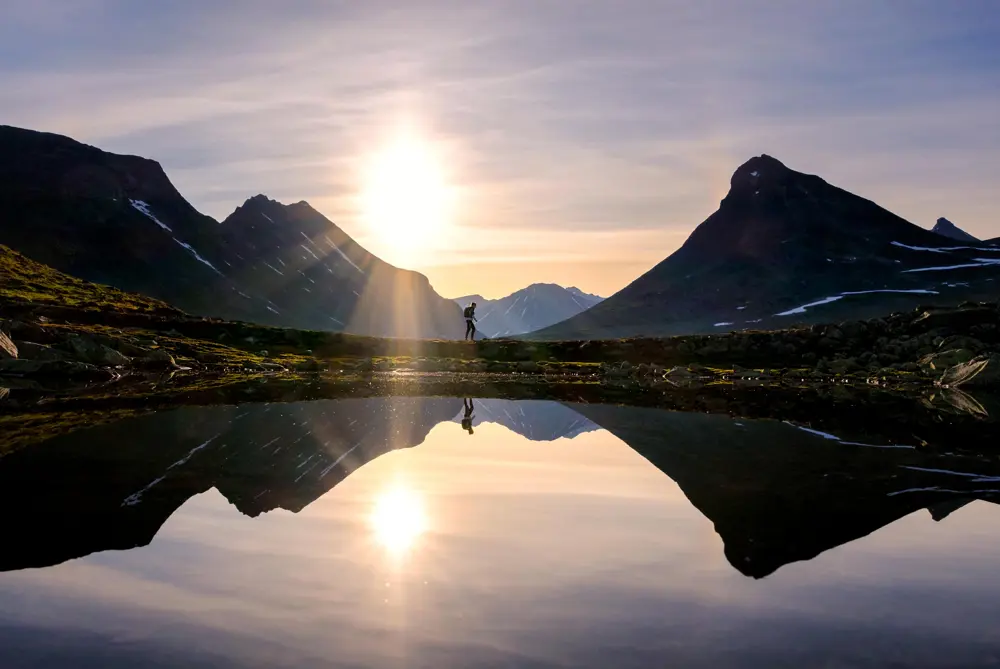 Staffed cabins prices
DNT pension includes accommodation, 3-course dinner, breakfast, self-packed lunch (4 slices of bread) and a shower.
Adult with DNT pension from 990,-

Member

990,- in dormitories
1 120,- In rooms with 4-6 bunks
1 190,- in roomes with 1-3 bunks

Non-member

1 300,- in dormitories
1 475,- In rooms with 4-6 bunks
1 550,- in roomes with 1-3 bunks
Children 13-18 years with DNT pension from 850,-

Member

850,- in dormitories
920,- In rooms with 4-6 bunks
935,- in roomes with 1-3 bunks

Non-member

1 300,- in dormitories
1 475,- In rooms with 4-6 bunks
1 550,- in roomes with 1-3 bunks
Children 4-12 years with DNT pension from 465,-

Member

465,- in dormitories
520,- In rooms with 4-6 bunks
545,- in roomes with 1-3 bunks

Non-member

730,- in dormitories
810,- In rooms with 4-6 bunks
850,- in roomes with 1-3 bunks
Our prices is based on DNT Oslo and Omegn price list. Prices may vary from other DNT-cabins. For more information about prices on our staffed cabins, click here.
Benefits of being a member
If you are a DNT member, you get a discount on both accommodation and food at our cabins.
If you stay overnight for more than 2 days you will save up the price of the membership. With the membership you will receive discount on accommodation at DNT's 550 cabins. You will also receive discount on outdoor equipment and on DNT tours.
The membership fee also contributes to support our work marking and clearing paths in all our areas. With the support we are able to operate the DNT huts, arrange trips and facilitate good experiences in our forests and mountains.
To become a DNT Member - sign up here!