About Gjendesheim
Gjendesheim is widely known for it's emphasis on local food, excellent service, cozy atmosphere, epic terrain and wide variety of activities for all levels year round.
Publisert: 28. september 2023

Om DNT
Book your stay
We prefer that you book your stay in advance. We only accept reservations for full board stays with breakfast and dinner.
Book at hyttebestilling.dnt.no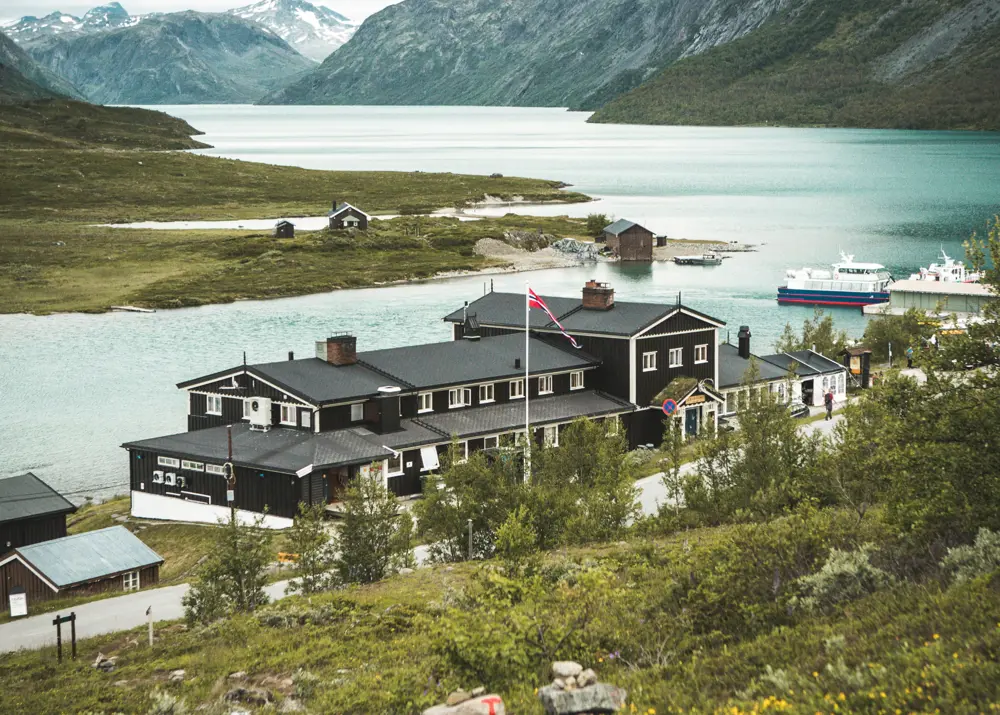 Book at hyttebestilling.dnt.no
About our cabin
In the reception you can buy basic outdoor equipment and it is possible to rent high quality equipment for activities both summer and winter. The lodge is easily accessible by car, and is situated in a region known for it's beautiful mountains, small scale farms, rich history and active lifestyle.
Gjendesheim lodge is open almost all year round and is the main gate to Jotunheimen highlands - home of the Norwegian giants. In the summer, a scenic boatride brings you from Gjendesheim to access the world famous hike back across the narrow Besseggen ridge. Check out our activities, courses and events – and look forward to delicious local food with a spectacular view!
Sustainability
Gjendesheim is certified in accordance to the requirements of environmental friendly cabins. Miljøfyrtårn is a national eco-certificatiom for quality control and verall eco-solutions.
How to get there - Winter

With car

Car road all the way to Gjendesheim through Randsverk (take the road through Gudbrandsdalen – see the description below under "summer").

Be aware: the road over Valdresflye is closed during the winter (opens around 1st of April). Find more info at: www.vegvesen.no

By bus

From April it's possible to arrive Gjendesheim by bus. Find your bus here.
How to get here - Summer

With car

You can drive all the way to the cabin. It is also possible to park at the cabin.

From Gudbrandsdalen (E6) you drive via Otta or Sjoa to Randsverk and on to Gjendesheim. If you come from Valdres, drive via Fagernes to Beitostølen and over Valdresflya to Gjendesheim.

By buss

In the summer season, there is a bus to Gjendesheim. Find the timetables and your departure at entur.no.
Facilities

Gjendesheim is the most visited mountain lodge in mountain-Norway, with 20.000 guests. We strive to always find a bed to everyone who wants to stay with us. We have 120 beds in 1-, 2- or 4- bed rooms. We also have dormitories in a separate house.

The demand is highest in the weekends. Please contact us if you are unsure if we have vacancy.

Accessible rooms

Good accessibility to 1st floor in main building.
Contact information
If you have any questions about Gjendesheim, please call or send us and email.
Phone: +47 612 38 910
Mail: info.gjendesheim@dnt.no
Be inspired - follow us on Facebook!