Welcome to Geiterygghytta
Geiterygghytta is located in the mountains at 1224 above sea level, in the middle of Skarvheimen, west and northeast of Hallingskarvet. The hut was opened in 1914 and has become a vital hub in an extensive route network, connecting routes from Hol, Aurland, Finse and Hallingskeid.
Publisert: 15. oktober 2023

DNTs tilbud
Practical information
About Geiterygghytta

Geiterygghytta is known as the pearl of Skarvheimen and is one of the main gate to the magnificent Aurlandsdalen. The well-known and historic Aurlandsdalen Valley, was once one of the main routes between the eastern and western parts of Norway. The area known as Norway's Grand Canyon, is wild and breathtaking, rich in plant and animal life, cultural treasures, history and geological features.


The lodge has totally 88 beds. A few two- and four-bunk rooms in the main hut, and 44 bunks in a dormitory annex. Both the main hut and the annex has toilets, showers and drying room.

We have a few room for dog and owner, and we have plenty of cages where the dog can sleep in a seperate room.

At the hut you wil be served a delicious three course supper, breakfast and you can make your own lunch bag.
Acsess to Geiterygghytta

Train and bus

The lodge is easily accessible by train to Ål on the Bergen line, and from there by bus to the eastern side of the Geiterygg tunnel. The bus schedules are coordinated to match the eastbound and westbound train schedules, so there's little waiting at Ål.

At Easter, there's a daily bus from Ål to the western end of the Geiterygg tunnel. From the bus there's a 5 km staked route to the lodge. Over snow transport of people or baggage may be booked with the lodge warden.

By car

You can drive on National Road 50 to one of the carparks at each ends of the Geiterygg tunnel. In summer, both carparks are open, but in winter, only the carpark at the west end is open. From the carparks, which also is were the bus stops, it's just a 3 km hike to the lodge.
Read this before booking

Please note; you are booking one bed at the time, not a room.
Choose price; member/not member, Adult, Youth, Kid.Please note that food allergies or request for vegetarian food must be written in "Notes" when checking out.
If you will be bringing a dog you must inform of this in the Notes section at check-out.
Add to cart and repeat for all persons of your group.
Do not click "Book now" until you have added all Beds/items to the cart.
"Book now" and complete your Booking.

NOTE: Check your mail bin for the Code you need to complete your Booking.

All bookings will be checked by us, to asure that everything is ok.
Book your stay
It has now become easier to book a cabin trip at DNT cabins. Book accommodation at Geiterygghytta now!
Hyttebestilling.dnt.no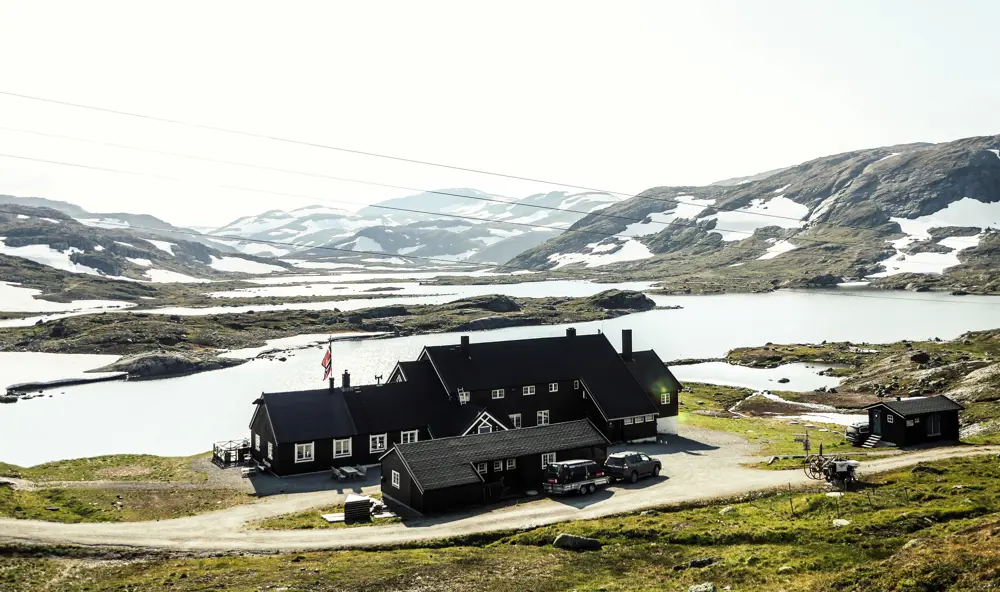 Staffed cabins prices
DNT pension includes accommodation, 3-course dinner, breakfast, self-packed lunch (4 slices of bread) and a shower.
Adult with DNT pension from 990,-

Member

990,- in dormitories
1 120,- In rooms with 4-6 bunks
1 190,- in roomes with 1-3 bunks

Non-member

1 300,- in dormitories
1 475,- In rooms with 4-6 bunks
1 550,- in roomes with 1-3 bunks
Children 13-18 years with DNT pension from 850,-

Member

850,- in dormitories
920,- In rooms with 4-6 bunks
935,- in roomes with 1-3 bunks

Non-member

1 300,- in dormitories
1 475,- In rooms with 4-6 bunks
1 550,- in roomes with 1-3 bunks
Children 4-12 years with DNT pension from 465,-

Member

465,- in dormitories
520,- In rooms with 4-6 bunks
545,- in roomes with 1-3 bunks

Non-member

730,- in dormitories
810,- In rooms with 4-6 bunks
850,- in roomes with 1-3 bunks
Our prices is based on DNT Oslo and Omegn price list. Prices may vary from other DNT-cabins. For more information about prices on our staffed cabins, click here.
Benefits of being a member
If you are a DNT member, you get a discount on both accommodation and food at our cabins.
If you stay overnight for more than 2 days you will save up the price of the membership. With the membership you will receive discount on accommodation at DNT's 550 cabins. You will also receive discount on outdoor equipment and on DNT tours.
The membership fee also contributes to support our work marking and clearing paths in all our areas. With the support we are able to operate the DNT huts, arrange trips and facilitate good experiences in our forests and mountains.
To become a DNT Member - sign up here!