Welcome to Snøheim
Snøhetta marks the boundary of Dovrefjell. In times gone by, it was thought to be the highest peak in the country. Today we know better, but it's easy to agree that the Snøhetta massif is imposing as it rises high and free above the Dovre plateau. Take a trip to us and magical Dovrefjell this summer!
Publisert: 23. august 2023

DNTs tilbud
Practical information
Facilities

Located just below Snøhetta, Reinheim Turisthytte was built by The Norwegian Trekking Association (DNT) in 1952. The Army then took it over related to the developement of of Hjerkinn shooting field in 1958. The lodge then changed name to Snøheim. In the autumn of 2007 DNT Oslo og Omegn got Snøheim back from the Army. Today Snøheim is a DNT lodge with 80 bunks, in roms with two and four bunks.

Location

In addition to the fact that Snøheim has over 10 peaks at over 2000 masl nearby, the area is also very rich in fishing waters.

If you are extra lucky, you will also see the musk ox.
Opening hours

In the summer of 2024, Snøheim is open from June 21st June - October 6th. Snøheim is closed for the winter.
How to get here

The lodge is easlily accessible with train to Hjerkinn, and a shuttlebus to Snøheim from there. Snøheim is not accessible by car and you have to book your stay as well as the shuttlebus in advance.

Shuttlebus

Book seats in advance. On days with many visitors, there will be organized extra departures.
Accommodation

The best way to book your stay at Snøheim is to use our online booking. But you can also contact us by email or phone.

Cancellation policy

Free cancellation for all bookings up to 5 days before arrival.
(Example: Stays on Friday must be canceled no later than Sunday at 23:59.)
Cancellations made 0-4 days before arrival will be charged in full.
Book your stay
It has now become easier to book a cabin trip at DNT cabins. Book accommodation at Snøheim now!
Hyttebestilling.dnt.no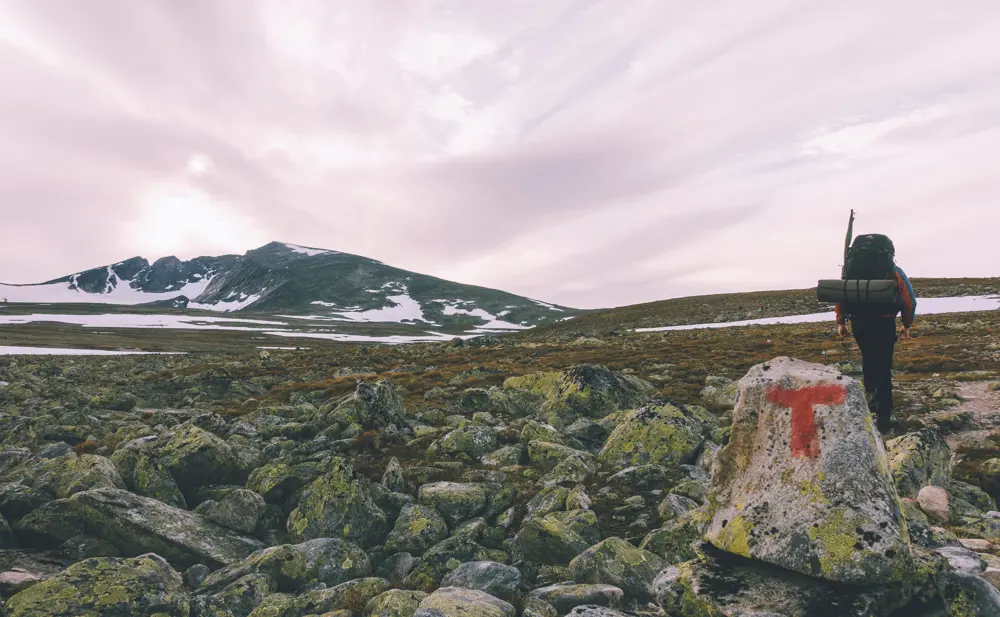 Staffed cabins prices
DNT pension includes accommodation, 3-course dinner, breakfast, self-packed lunch (4 slices of bread) and a shower.
Adult with DNT pension from 990,-

Member

990,- in dormitories
1 120,- In rooms with 4-6 bunks
1 190,- in roomes with 1-3 bunks

Non-member

1 300,- in dormitories
1 475,- In rooms with 4-6 bunks
1 550,- in roomes with 1-3 bunks
Children 13-18 years with DNT pension from 850,-

Member

850,- in dormitories
920,- In rooms with 4-6 bunks
935,- in roomes with 1-3 bunks

Non-member

1 300,- in dormitories
1 475,- In rooms with 4-6 bunks
1 550,- in roomes with 1-3 bunks
Children 4-12 years with DNT pension from 465,-

Member

465,- in dormitories
520,- In rooms with 4-6 bunks
545,- in roomes with 1-3 bunks

Non-member

730,- in dormitories
810,- In rooms with 4-6 bunks
850,- in roomes with 1-3 bunks
Our prices is based on DNT Oslo and Omegn price list. Prices may vary from other DNT-cabins. For more information about prices on our staffed cabins, click here.
Benefits of being a member
If you are a DNT member, you get a discount on both accommodation and food at our cabins.
If you stay overnight for more than 2 days you will save up the price of the membership. With the membership you will receive discount on accommodation at DNT's 550 cabins. You will also receive discount on outdoor equipment and on DNT tours.
The membership fee also contributes to support our work marking and clearing paths in all our areas. With the support we are able to operate the DNT huts, arrange trips and facilitate good experiences in our forests and mountains.
To become a DNT Member - sign up here!