Welcome to Bjørnhollia
Bjørnhollia lies south in the Rondane range, with its sheltered valleys and splendid scenery. Variety is close at hand - summit hikes, strolls or fishing. The lodge is a gem; in 1984 it was awarded the Muncipality of Sel Architecture Prize for the best trekker facility in the mountains. You'll definitely feel at home here.
Publisert: 22. august 2023

DNTs tilbud
Practical infromation
Seasons

Bjørnhollia is staffed at Easter and in summer. In the off season during the rest of the year, it offers self-service lodging with 14 bunks, available by using the DNT cabin key.

NOTE: Each year, both the staffed lodge and the self-service quarters are closed from 1 May to 10 June, because of the wild reindeer calving season.

Extended stays of two days or more may be booked directly at the lodge in season or by contacting the hosts in off season.
Access
Summer

Public transport

In summer, train to Koppang on the Røros Line or Ringebu on the Trondheim Line. Onward by bus to Straumbu. (Bus service from Ringebu to Straumbu only during the school summer holiday starting Midsummer Day.) From Straumbu (P) it's about 5 km in to Bjørnhollia.

Car

Private cars may be parked at Gammelgarden on National Road 27. From the car park, it's 8 km along a transport road to the lodge.
Winter

In winter, by train or car to Atna/Koppang in the Østerdalen valley and by bus or car onward to the car park at Furulund Gård/Nesset. From there, there's a 6 km staked route to the lodge.
Note: National Road 27, from the south from the junction with E6, may be closed due to bad weather during the winter.
Book your stay
It has now become easier to book a cabin trip at DNT cabins. Book accommodation at Bjørnholia now!
Hyttebestilling.dnt.no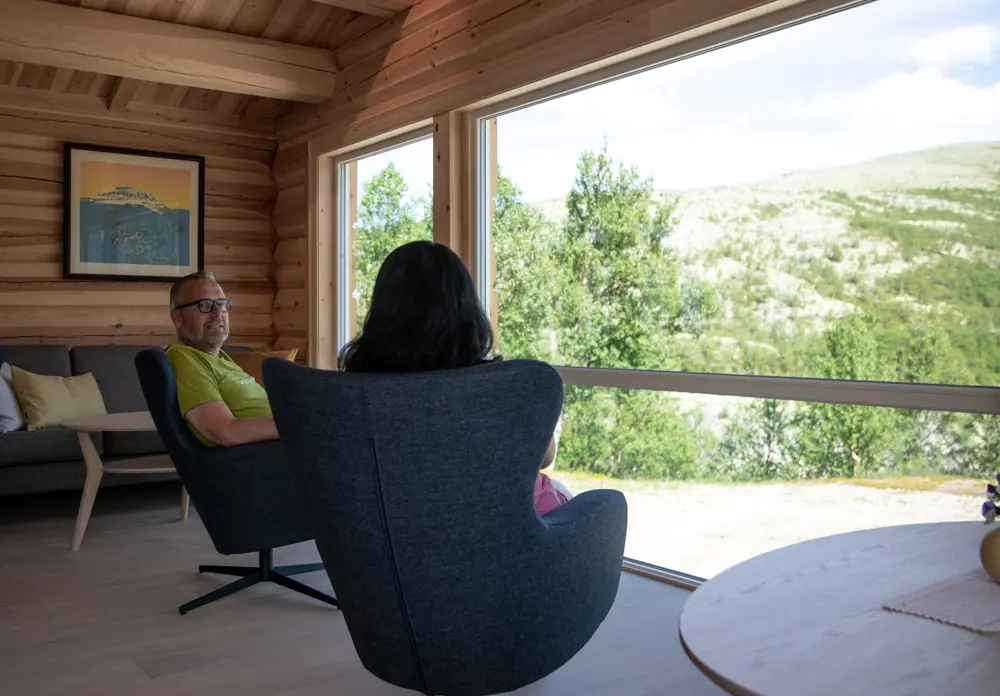 Staffed cabins prices
DNT pension includes accommodation, 3-course dinner, breakfast, self-packed lunch (4 slices of bread) and a shower.
Adult with DNT pension from 990,-

Member

990,- in dormitories
1 120,- In rooms with 4-6 bunks
1 190,- in roomes with 1-3 bunks

Non-member

1 300,- in dormitories
1 475,- In rooms with 4-6 bunks
1 550,- in roomes with 1-3 bunks
Children 13-18 years with DNT pension from 850,-

Member

850,- in dormitories
920,- In rooms with 4-6 bunks
935,- in roomes with 1-3 bunks

Non-member

1 300,- in dormitories
1 475,- In rooms with 4-6 bunks
1 550,- in roomes with 1-3 bunks
Children 4-12 years with DNT pension from 465,-

Member

465,- in dormitories
520,- In rooms with 4-6 bunks
545,- in roomes with 1-3 bunks

Non-member

730,- in dormitories
810,- In rooms with 4-6 bunks
850,- in roomes with 1-3 bunks
Our prices is based on DNT Oslo and Omegn price list. Prices may vary from other DNT-cabins. For more information about prices on our staffed cabins, click here.
Benefits of being a member
If you are a DNT member, you get a discount on both accommodation and food at our cabins.
If you stay overnight for more than 2 days you will save up the price of the membership. With the membership you will receive discount on accommodation at DNT's 550 cabins. You will also receive discount on outdoor equipment and on DNT tours.
The membership fee also contributes to support our work marking and clearing paths in all our areas. With the support we are able to operate the DNT huts, arrange trips and facilitate good experiences in our forests and mountains.
To become a DNT Member - sign up here!
Contact us
Our hosts are Beate Øygarden og Svein Aaseng.
In season contact:
Off season contact: