Welcome to Gjendebu
Gjendebu is well located at the innermost end of Lake Gjende, in the heart of the Jotunheimen. It's DNT's oldest tourist lodge, built in 1871. Since then, it has been extended and rebuilt several times. Today it has 119 beds and relatively modern facilities. A nice site is offered for camping with access to all facilities, once you have checked in.
Publisert: 25. august 2023

DNTs tilbud
Practical information
About Gjendebu

Lifetime outdoor experience

At an elevation of 990 m.a.s.l., it's in the border zone between mountain and forest, on the shore of vedigris green Lake Gjende, with a rich flora of more than 700 species, surrounded by peaks and glaciers in all directions.
Seasons

Gjendebu is a staffed lodge at Easter and in summer, mid June to mid September. Otherwise during the year it's a self-service cabin, locked with the DNT cabin key.
How to get to Gjendebu by Public transport

Bus

Take the bus to Gjendesheim and boat from Gjendesheim to Gjendebu.

There are express buses and local buses to Gjendesheim during the summer season. The timetables vary slightly. Find your departure and route by visiting Entur.no.

Train

By train from Trondheim or Oslo to Otta, and then by the daily bus. There's a daily boat route from Gjendesheim to Gjendebu. See gjende.no for scedule.
How to get to Gjendebu by car

By car you can drive to Gjendesheim either via Otta or Sjoa to Randsverk and further onward, or via Fagernes-Beitostølen over Valdresflya and on to Gjendesheim.
Luggage transport

The boat Gjendesheim-Memurubu-Gjendebu offers transport of luggage at all services. New in 2023 is that we can also organize transport of luggage to many of the huts and villages in the area. Very handy if you like to visit a peak during you hike to next place, or if you hike with heavy luggage for camping.
Accommodation

Facilities

The lodge has 119 beds. Rooms of good "DNT-standard". Shared showers and toilets in corridor.

The best way to book your stay at Gjendebu is to use our online booking. But you can also contact us by email or phone.

There is normally always room in the DNT cabins, but sometimes only simple logdes for drop-ins.

Handicap access

The cabin is not handicap adapted but is easily accessible by boat from Gjendesheim. Short trail from the boat dock to the cabin.
Book your stay
It has now become easier to book a cabin trip at DNT cabins. Book accommodation at Gjendebu now!
Hyttebestilling.dnt.no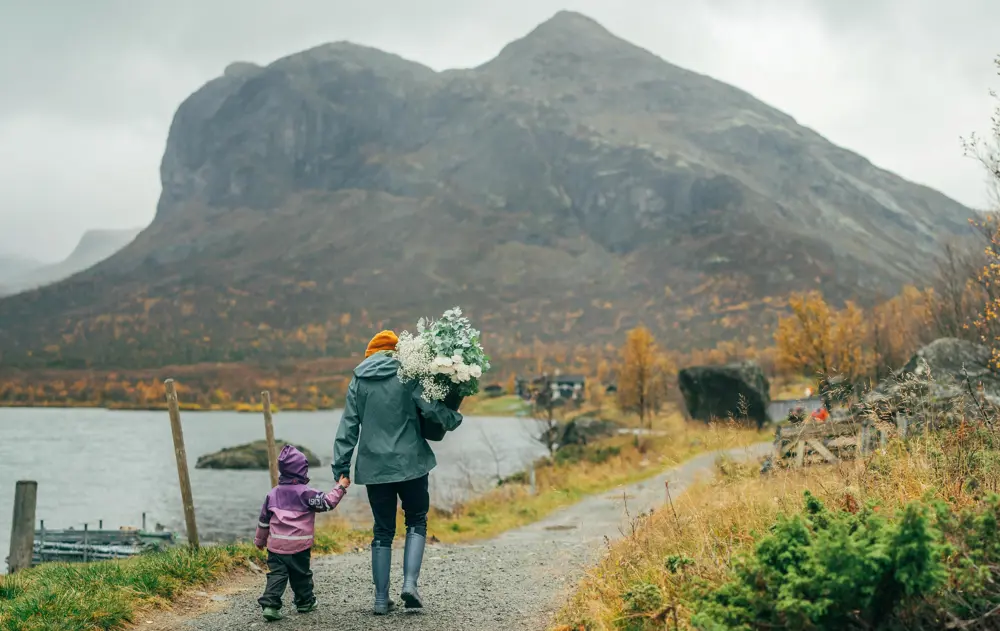 Staffed cabins prices
DNT pension includes accommodation, 3-course dinner, breakfast, self-packed lunch (4 slices of bread) and a shower.
Adult with DNT pension from 990,-

Member

990,- in dormitories
1 120,- In rooms with 4-6 bunks
1 190,- in roomes with 1-3 bunks

Non-member

1 300,- in dormitories
1 475,- In rooms with 4-6 bunks
1 550,- in roomes with 1-3 bunks
Children 13-18 years with DNT pension from 850,-

Member

850,- in dormitories
920,- In rooms with 4-6 bunks
935,- in roomes with 1-3 bunks

Non-member

1 300,- in dormitories
1 475,- In rooms with 4-6 bunks
1 550,- in roomes with 1-3 bunks
Children 4-12 years with DNT pension from 465,-

Member

465,- in dormitories
520,- In rooms with 4-6 bunks
545,- in roomes with 1-3 bunks

Non-member

730,- in dormitories
810,- In rooms with 4-6 bunks
850,- in roomes with 1-3 bunks
Our prices is based on DNT Oslo and Omegn price list. Prices may vary from other DNT-cabins. For more information about prices on our staffed cabins, click here.
Benefits of being a member
If you are a DNT member, you get a discount on both accommodation and food at our cabins.
If you stay overnight for more than 2 days you will save up the price of the membership. With the membership you will receive discount on accommodation at DNT's 550 cabins. You will also receive discount on outdoor equipment and on DNT tours.
The membership fee also contributes to support our work marking and clearing paths in all our areas. With the support we are able to operate the DNT huts, arrange trips and facilitate good experiences in our forests and mountains.
To become a DNT Member - sign up here!
Contact us
Lars Åge Hilde is the warden at Gjendebu.
In season:
Address: Gjendebu, PO Box 3 6794 Innvik Norway
Tel: (+47) 47611533
Email: gjendebu@dnt.no
Off season:
Address: Gjendebu, PO Box 3, 6794 Innvik, Norway
Tel: (+47) 915 74 965
E-mail: gjendebu@dnt.no