Welcome to Fondsbu
Fondsbu is one of the most popular huts in Jotunheimen mountains, located at the lake of Bygdin in the historic place of Eidsbugarden. You will be welcomed by a friendly and familylike atmosphere, and the sound of laughter, the delicious scent of local produce being prepared for the next meal and warmth. You can feel the heartbeat of the house as soon as you enter the door.
Publisert: 28. september 2023

DNTs tilbud
Practical infromation
About Fondsbu

The magic in Jotunheimen are waiting for you

It's magic. It's magnificent: True Magic Mountain Moments awaits you during your stay at Fondsbu: This area is perfect for ascending a multitude of peaks from the elevation of 1300 mas and up to 2300 mas, crossing glaciers or hiking in friendly terrain enjoying the extraordianary flora along the lake or in the valleys.

There is trout in the lake, tarns and rivers, an eagle might glide over you, or a grouse be startled. There is amazing view in any direction - and should you search for it, you will perhaps find what you might be looking for more than anything: your true self somewhere inside the sound of silence.
Our facilities

Fondsbu has 100 bunks; there are 17 rooms with two bunks and 10 with four bunks; and there are 26 bunks in the dormitory, each divided in "lockers" with doubles or singles. In the main building (totally renovated in 2006) there are 12 twin rooms, aand in the annex (new in 1999) there are 5 twin rooms and 10 quadruppel rooms. There are toilets, showers and a drying room in both buildings. Moreover, the rooms with two bunks in the main building have sinks with hot and cold water.

The living room has fireplace, and a library on the attic. Fondsbu is known for it's cosy and homely atmosphere.
How to get her

Summer

In summer there's a daily bus (until end of August) from Oslo or Bergen to Tyinkrysset and onward to Fondsbu located at Eidsbugarden, at the end of National Road 252.
Note: The bus must be prebooked before 17.00 o'clock the day before on phone no: +47 46 30 46 30

And here you can find the buses to go on, to/from Oslo or Bergen: https://www.nor-way.no or https://www.innlandstrafikk.no

Another approach is from the east, by bus or car on National Road 51 to Bygdin and by passenger boat on the lake to Fondsbu.

Winter

In winter, there are daily bus services from Oslo and Årdal to Tyin. From Tyin, tracked vehicle or snowmobile services to Fondsbu are available upon advance booking. You also may drive to Tyin on E16, and there is a carpark there. From Tyin to Fondsbu, it's about 20 km along a staked route, an easy ski tour in fantastic terrain. If you wish, you may send your baggage with the tracked vehicle.

Usful app for public transport:

EnTur: We recommend to download the app: https://entur.no - where you can find all public transport all over Norway.

Book your stay
It has now become easier to book a cabin trip at DNT cabins. Book accommodation at Fondsbu now!
Hyttebestilling.dnt.no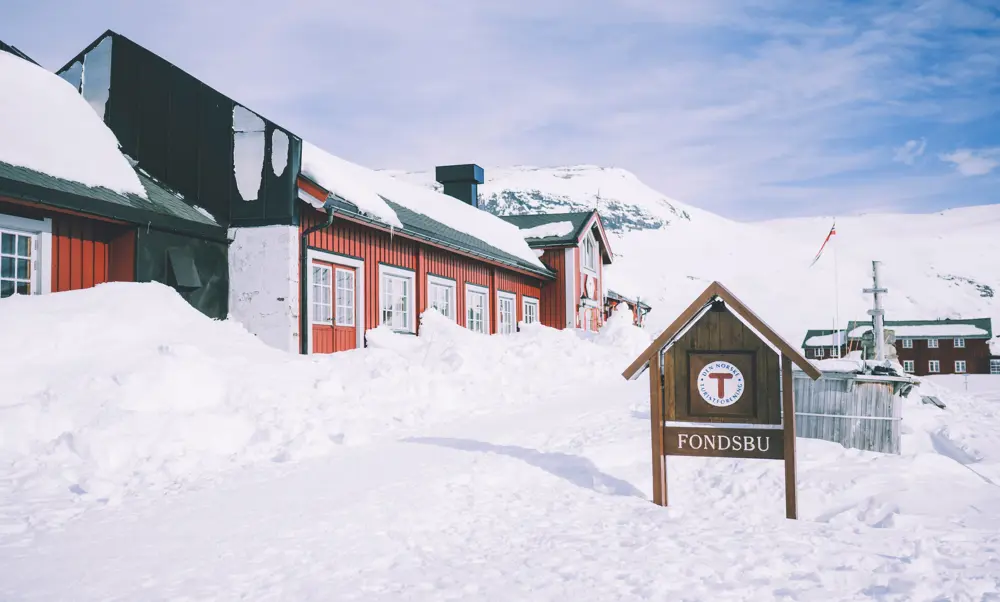 Staffed cabins prices
DNT pension includes accommodation, 3-course dinner, breakfast, self-packed lunch (4 slices of bread) and a shower.
Adult with DNT pension from 990,-

Member

990,- in dormitories
1 120,- In rooms with 4-6 bunks
1 190,- in roomes with 1-3 bunks

Non-member

1 300,- in dormitories
1 475,- In rooms with 4-6 bunks
1 550,- in roomes with 1-3 bunks
Children 13-18 years with DNT pension from 850,-

Member

850,- in dormitories
920,- In rooms with 4-6 bunks
935,- in roomes with 1-3 bunks

Non-member

1 300,- in dormitories
1 475,- In rooms with 4-6 bunks
1 550,- in roomes with 1-3 bunks
Children 4-12 years with DNT pension from 465,-

Member

465,- in dormitories
520,- In rooms with 4-6 bunks
545,- in roomes with 1-3 bunks

Non-member

730,- in dormitories
810,- In rooms with 4-6 bunks
850,- in roomes with 1-3 bunks
Our prices is based on DNT Oslo and Omegn price list. Prices may vary from other DNT-cabins. For more information about prices on our staffed cabins, click here.
Benefits of being a member
If you are a DNT member, you get a discount on both accommodation and food at our cabins.
If you stay overnight for more than 2 days you will save up the price of the membership. With the membership you will receive discount on accommodation at DNT's 550 cabins. You will also receive discount on outdoor equipment and on DNT tours.
The membership fee also contributes to support our work marking and clearing paths in all our areas. With the support we are able to operate the DNT huts, arrange trips and facilitate good experiences in our forests and mountains.
To become a DNT Member - sign up here!
Contact us
Host at Fondsbu is Mrs. Solbjørg Kvålshaugen. She has been the host of Fondsbu since winter 2002.
Contact information:
Address: Fondsbu, Eidsbugarden, 2985 Tyinkrysset
E-mail: fondsbu@dnt.no
Phone: +47 970 74 218
Booking: